Misfit/Optimist
Generous, jovial, ready for a warm embrace anytime, Misfit is composed of the barrels that possess an easy-going character full of soul, passion, and contagious spontaneity. Misfit's wild side is the result of usually containing many of the varietals that we grow here in the Santa Ynez valley's varied climate as support characters to its core, Syrah.
Vintage Notes
2018 Optimist

Balance, transparency, and energy are the result of a composition that draws from all corners of the Santa Ynez Valley – Syrah from the Santa Rita Hills, Grenache and a thimble of Roussanne from Alisos Canyon, and Petit Verdot that shines in Happy Canyon, raised in a combination of seasoned and new 400L French Oak vessels.

The Santa Ynez Valley's extraordinary climatic agility provides a unique ability to grow our vast diversity of grape varieties, which make up the winemaker's "colour palette" (British for "color palate"); the 2018 vintage influenced that palette to be one of exceptionally vibrant colours. These inspired to make the delicious Optimist with our non-traditionalist attitude and penchant for breaking old-world rules. Balance, transparency, and energy are the result of a composition that draws from all corners of the Santa Ynez Valley – Syrah from the Santa Rita Hills, Grenache and a thimble of Roussanne from Alisos Canyon, and Petit Verdot that shines in Happy Canyon, raised in a combination of seasoned and new 400L French Oak vessels. Optimist's positive disposition intends it to be opened whenever you need something delicious and forward to lively up your evening.

Food: hardy and simple works here – we frequently make frittatas, which are like pizza in how you can improvise with toppings/fillings; a favorite is with gruyere, quick-blanched cauliflower florettes, smoked paprika, and feta. Too lazy for a frittata? …grazing on cured meats, cheese, bread, and a salad works (…might find yourself needing a second bottle…)

Music: your favorite Maria Callas Arias, Chopin Nocturnes, or Bach Cello Suites; or Nick Drake's 'Pink Moon' album
2017 Optimist

The king is dead, long live the queen! After a 7-year run of letting loose the reins and encouraging the rowdiness that defined Misfit, 'Optimist' returns to take Misfit's place in the annual Sanguis line-up. The style is similar: early pleasure, with a sunny smile and friendly wink (rather than that smart-ass, devil-may-care smirk).

Optimist is a woman (maybe Helen Mirren) who exudes confident style, pulls you in with infectious excitement and then holds you with the luscious textural depth that brings together athletic firmness and a gentle touch – a nature she owes to being this wild amalgam of Syrah, Petit Sirah, Grenache, Roussanne, and Cabernet Sauvignon, whole cluster fermented on native yeasts and raised in an array of new and seasoned French oak vessels for about 2 years.

Food: Chances are that whatever you're eating on any given day will work – pizza, pasta al'ragou, a mortadella sandwich with a fried egg on top (so long as the yolk is good'n'runny)…can't go wrong. If all you got are some pickles…toast some old bread and put butter and salt on it, or throw out the old bread and just door-dash it.

Music: Everybody's got a little devil in their soul, Tommie Young; Well, Hell, Lauren Ruth Ward; How Long, C.W. Stoneking; I Can't Stand The Rain, Ann Peebles; The Last, Jolie Holland & Samantha Parton; Just Like A Woman, Jeff Buckley (live at Sin-é)
2016 Misfit

In the Sanguis line-up, Misfit's intended purpose is akin to that of the 3-series Beemer or an Audi A4: to provide a balance of luxury, sportiness, convenience and thus easy pleasure.

This 2016 iteration may be the most substantial and expressive Misfit to date…sort of like the M3 or RS4 models – more horsepower and all the handling to go with it. Like either of those two, this wine has a lot packed into it: of course, Syrah is the foundation; additional bhp come from Petite Sirah and Petit Verdot, and racy handling provided by Cabernet Franc and Grenache. Grown in vineyards in just about every nook and cranny of the Santa Ynez Valley, fermented on native yeasts with about 15% whole clusters and raised for 26 months in a combination of large format new and seasoned French Oak and Acacia barrels. Smelling like a fresh berry cobbler with enough substance to serve as the meal itself, Misfit punches well above its weight!
2015 Misfit

Possibly the most elegant of Misfits to date, this 2015 is certainly the most complex, displaying the vintage's awesome range of exotic aromas and balanced power. This Misfit is also a lovely example of the Santa Ynez Valley's many capabilities, composed of it's Syrah core, generous splashes of perfumed Grenache and wild Cabernet Franc, and a bit of muscle and "exotiques" from Petite Sirah and Viognier, respectively. Consistent with all it's older siblings, this 2015 "rebel with a cause" will provide early pleasure and partner array of savory dishes (and ideally with really good pizza).

Food: Lamb tagine; tacos al pastor (either meat or mushroom); a bean stew (+ a salad with any of these).

Music: Rowdy choices, like Oh You Pretty Things – Bowie; No Banker Left Behind – Ry Cooder; La Corrida de Jesse James – Ry Cooder; Don't Break The Needle – J. Roddy Walston; Happiness Jones – The Wood Brothers; Carolina Drama – Jack White.

Details: Always the selection of those barrels that hold promise of rewarding early enjoyment, this 2015 is no exception. A Syrah-dominant composition of five varietals from as many vineyards, raised for about 2 years in mostly seasoned large format French oak barrels. [about 270 cases produced]
2014 Misfit

This wine is Joe Strummer – feisty, unconventional, clever, and always with a cause. There's a ate-in-life, little known, recording of Strummer speaking (without music) about what drives him, which ends with an emphatic "without people you're nothing!!! That's my 'spiel'". Misfit is for sharing and enjoying with your feisty friends over a delicious meal (and probably right now, and for some time to come the inevitable political discussion) anytime, anywhere, with most kinds of food. This 2014 "model" is composed of Syrah, Grenache, Petite Sirah and splashes of both Viognier and Roussanne, which collectively make for a dark and tense core and bursts of freshness, energy, and the warm smile of…hm…Maria Cucinotta in her little Air France getup.

Drawing from several of our cool-climate vineyards, 2014 Misfit was fermented on native yeasts for two weeks, following a 5-day cold soak, treated gently with a combination of pigeage and punch downs, then pressed lightly, transferred to 80% neutral 300, 400, and 500L barrels, and raised for 2 years after extended less stirring during malo-lactic conversion.

Food: Anything goes – this is our go-to for Pizza and simple pastas…grilled pieces of cow work as well as grilled vegetables…falaffel pita sandwiches…anything you like

Music: the cover of Bob Dylan's "Desolation Row" covered by My Chemical Romance recorded live in Japan; the acoustic version of Jesca Hoop's "Murder of Birds"; Madlib's version of Footprints is epic; "The Journey (Live version) from Martin Sexton!!! – MP
2013 Misfit

The 2013 version is as serious as Russian novel, moves as playfully and decisively as a hummingbird, and is, as usual, intended as to provide early pleasure in abundance. If a bowl of dark cherries, some apple-wood bacon sizzling in your campsite pan in the Big Sur redwoods at 7 in the morning, a slice of grilled olive bread, and the viscosity of Ethiopian coffee steeped in a French Press for about 10 minutes all sound like good things, then this has your name on it.

Food: Something rustic and strong. It doesn't need to be meat, and it could have some spice component – that delicious chickpea stew from YotamOttolenghi's"Plenty" cookbook with a little tikkamasala and fresh herbs than the recipe calls for!

Music: My favorite Talking Heads song is Houses In Motion – as American as it gets, with the exotic extravaganza of Adrian Belew'sguitar that sounds like a snake charmer's flute (or whatever instrument snake charmers actually play) meets a table saw and these other Brian Enoinstruments that sound like musical elephants in the background
2012 Misfit

MISFIT is playful, has a sunny and warm disposition, possesses a cool calmness and mischievous charm; she is exceedingly friendly, and doesn't judge whether her company on the table used to have legs, wings or roam the oceans, so long as it has substance to stand up for itself, and ideally a bit of a smoky character. The 2012 model consists of mostly Syrah (chiefly responsible for this wine's Scarlett Johansson body) co-fermented with a healthy dash of Grenache (a smile from Kerry Washington), and a bit of Viognier (a raised eyebrow from Lucy Liu moments before striking a blow with the Hanzo sword).

There is aging capability here – but if you're opening anything early, Misfit should always be first. It's intended to be supple and delicious in its youth and survive the test of time based on its beautiful bones…

General direction for Food: We could do BBQ, Osso Buco, Cassoulet, or just a bunch of charcuterie, pate and dry or semi-soft sheeps milk cheeses (cow, goat and soft don't work here!), we could do pizza for that matter. Misfit is intended to be easy, forward, and versatel.

Music that would be a nice accompaniment to this bottle: Joe Cocker: "Feelin' Alright", and while we're at it, his best impersonator John Belushi's "I don't know (live!!!)…also "Use Me" from Bill Withers, Al Green, Sharon Stone & The Dap Kings (…you get the point)
2011 Misfit

Syrah with a small amount of Viognier & Roussanne co-fermented. As the name suggests, not the passive type that's happy to stand in line.

If this were a car, it would be 335i – great for everyday use: Serious fun, elegant enough for that night at the opera they frequently show us in car commercials, yet racy enough for the track (as also seen in those commercials). When you sit down in it, the thing gives you a hug and when you hit the gas, a smile appears on your face. (All of this took a bunch of our guys in the white
lab coats ten years of research and refinement to perfect). 2011 is the first of these and there isn't a lot. In most vintages,
hopefully there'll be enough to make this the everyday 'go to' when in the mood for serious yet juicy Syrah.

PS: when drinking this, leave the 335 in the garage though, right?!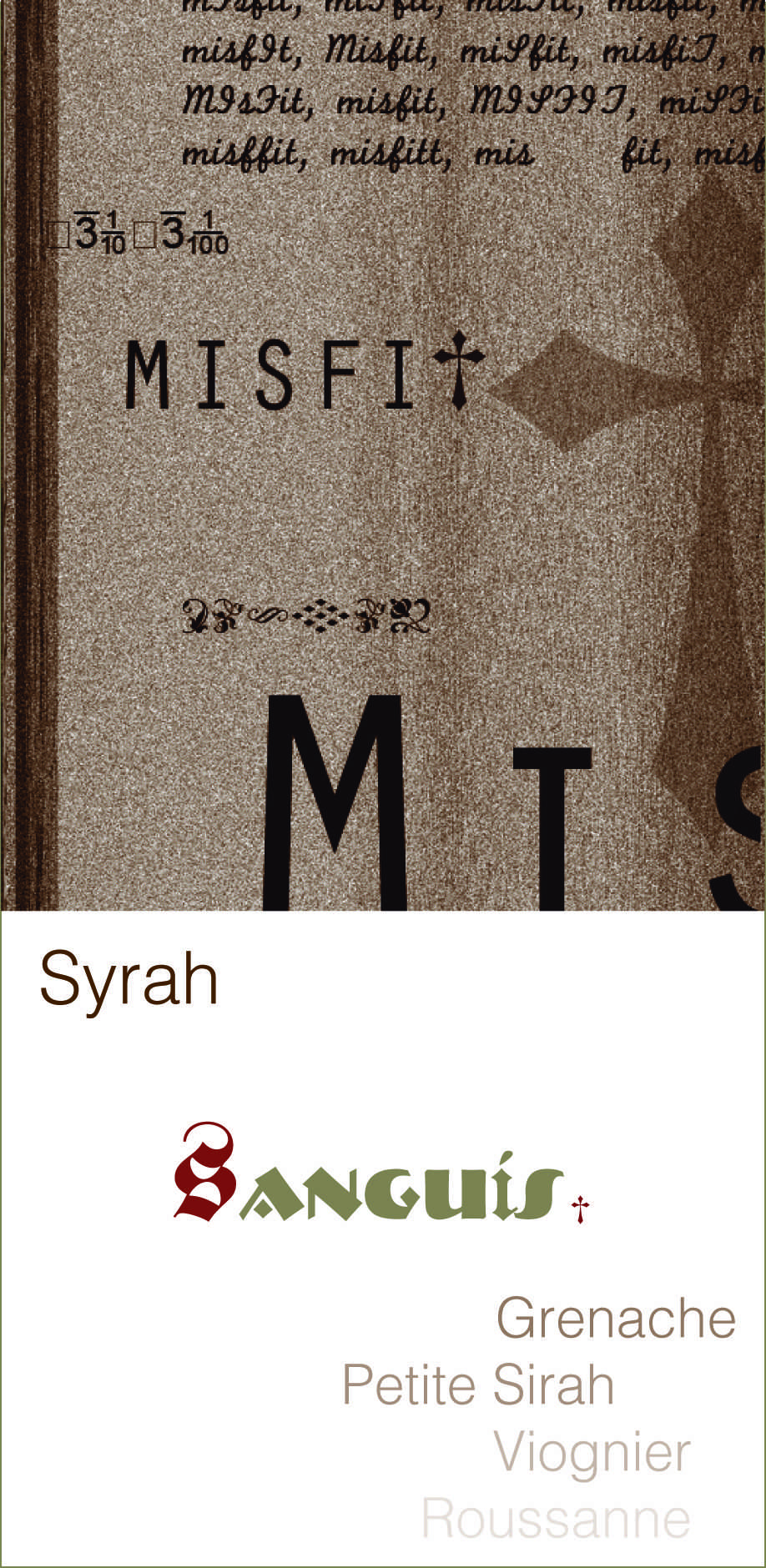 ---