Verve
The ethereally perfumed Grenache grown in the sandy soils of Alisos Canyon loves to play with other varietals (such as Syrah, Petite Sirah / Petit Verdot, and occasionally Cabernet Franc and Viognier or Roussanne) to complement and anchor its frolicsome character. As with most of our wines, the precise varietal composition and ratios that go into Verve varies with each vintage to produce its high strung character of vitality and exceptional purity.
Vintage Notes
2020

A seriously delightful Grenache-composition, predominantly from our beloved Watch Hill vineyard, that is delicious now and will age for a very long while. 

This is seriously delightful Grenache that will age for a very long while!  If you wanted to explain to an alien, new to our planet, what a bowl of red fruit, a Moroccan spice bazaar, and damp forest floor smell like; or if you were trying to illustrate the concepts of mouth-filling complexity, purity, and minerality, to anyone – alien or not – all you'd have to do is pour them a glass of this 2020 Verve.  And if someone didn't get any of those things at the end of the bottle, then we shall have to surmise that they are truly alien

Vitals: Predominantly Grenache from our beloved block at the Watch Hill vineyard, with small quantities of Syrah and Cabernet Franc, and fractions of Petit Verdot and Roussanne, co-fermented in a few lots and raised with extended lees contact in large neutral French oak vessels for a little over two years.

Food: something about most Verve's we've made suggests northern African dishes, like tagines of various types, or many of the mostly vegetable-based Israeli dishes from chefs like Yotam Ottolenghi, and if there is to be animal protein, it would be long stewed Kid, or tacos al Pastor.

Music: Superposition, KGLW \\ Atoms for Peace, Fortett Remix \\ Spirits in the Material World, Police \\ Kid A, Radiohead \\ Tightrope, Laurie Anderson \\ The Grim Reaper, KGLW \\ Root-down, Beastie Boys \\
2019

Mmmmh! As only Grenache can, this lovely edition of Verve somehow combines a number of opposite qualities in a dramatically charged range: the gentle carress of a strong hand; a female athlete'senergy and the old-world dustiness of Italy's aristocracy; finely toned muscle and a generous softness; vibrant red fruit and black tea; the familiar perfume of flowers and the strange attraction of freshtar…like Miles Davis' solo on 'Kix' two thirds of the way into the tune. If it weren't for the possibility of such exquisite tension, I'm not sure that making Grenache would hold any interest…it's temperemantal and hard work every step of the way.

Vitals: Salvador and Susanna at Watch Hill grow the beautiful Grenache and Roussanne that make up the majority of this composition for us. In 2019 we picked both very early and quite late to capturethe available range; these are further complicated by Kimsey Masal Syrah and were left on their lees in seasoned 400&500L barrels and never saw the light of day until about two years after the vintage.

Food: Most anything with mushrooms \\ a hearty Fall stew (doesn't need to be meat-based) \\ or the holy trinity of a deluxe grilled cheese, tomato soup, and an assertive salad

Music: Jazz (We've Got It), Tribe Called Quest // The Nubian Queens, Nicola Conte // West End Blues, L. Armstrong // Marseille, Ahmad Jamal // Zombie, Fela Kutie // Kix, Miles Davis
2018

I love how the mysterious charm of Watch Hill Grenache greets us from the glass with a deep, fresh florarilty, and combines seamlessly with Two Wolves Vineyard Petit Verdot's dark
masculinity and the lovely generosity of Roussanne from Watch Hill, to envelope your palate with a silky, warm embrace. This edition of Verve is like a stroll on a chilly fall night wearing a cashmere sweater, that favorite pair of jeans and well-cared-for boots. The starry night smells both fresh and of earth and damp leaves from the summer gone by; the way everything wraps around you feels splendid.

Food: probably some roasted root vegetables and a smoky frittata, or chicken paillard with an herb-centric salad

Music: Sweet Pea, Miles Davis; Summer Song (Diamond D Remix), Ronnie Jordan; To You, BadBadNotGood; Rainbo Conversation, Stereolab; Babylon Sisters, Steely Dan; Wub Nat, Girma Beyene; Boplicity, Miles Davis
2017

The wild playfulness of this 2017 version gives me the same kind of thrill I get from Miles Davis's solo on the 1981 recording of Kix (to which my then-12-year-old admiringly said "that's the craziest thing I've ever heard" from the backseat).

Unequal parts of profusely aromatic Grenache and voluptuous Roussanne from Watch Hill, and smoky Sta. Rita hills Estrella Syrah were gently co-fermented on native yeasts with partial whole cluster inclusion and raised in neutral oak and stainless for 26 months to produce the best Verve to date, which combines a typical nervous energy on light feet with convincing swagger and unequivocal grace.

Food: more tacos al pastor; lamb tagine (or something similar with middle eastern spice); a summer bean stew; and anything with mushrooms

Music: Kix, Miles Davis; Slang, Jaco Pastorius; God Must Be a Boogie Man, Joni Mitchell; Soul Intro – The Chicken, Jaco Pastorius; Footprints – any Wayne Shorter or Miles Davis version and also the Madlib re-make; Adam's Apple and Infant Eyes, Wayne Shorter; Untitled Original 11386 (Take 5) and After The Rain, John Coltrane

125 cases were made by caring hands in our humble bodega on the east side of Santa Barbara proper.
2016

Ideally, Jazz is the musical form where the players challenge themselves to glide through time/space, performing improvisational summersaults, and making it impossible for us to comprehend, while ensuring that we're enjoying it!

This year's Verve is a finely layered composition of Grenache and Roussanne grown at the Watch Hill vineyard, complicated by a small addition of Petit Sirah from Stolpman. Verve sports a wildly aromatic bouquet of a million flowers, fruits, and je ne sais quoi, its gentle touch is framed by racy acidity and, with yields of about a bottle of wine per plant, complemented by immeasurable depth of character and ample inner-strength.

Food: Something smoked or grilled, or a fine lamb curry, or maybe just cheese and crackers.

Music: Bill Evan's "How Deep Is the Ocean" (from Explorations); "The Man I Love" Roika Traoré; "Remus" Paolo Conte; "Lifetime Monologue" Lou Rawls / David Axelrod; "Listen Here" and "Sham Time" by the electrifying Eddie Harris.

Just 150 cases were made by caring hands in our humble bodega on the east side of Santa Barbara proper.
2015

Verve embodies all the characteristics of the epic 2015 vintage in a complex and thoroughly complete package – power, a nervous energy, balance, and grace – like the depth of the ocean meeting the energy of the sun reflecting on its waves moved by the refreshing force of the afternoon breeze. It is possibly the best Verve we've made to date. Opening a bottle of it recalls me of a wonderful gift we received from friends in Oregon: a box of ripe cherries with a bundle of lavender placed atop them – unexpected and lovely in every way.

My friend and collaborator Salvador Bernal and I have worked for years to dial in this Grenache block at the beautiful Watch Hill vineyard. Our efforts are showing their full reward in this wine and are complemented by small contributions of Syrah and Viognier, and Petite Sirah from nearby Bien Nacido, and Stolpman Vineyards. Verve was fermented on its native yeasts with 40% whole cluster inclusion and, after extended skin contact spent 26 months in seasoned French oak barrels of various sizes and shapes.

Food: Hearty fall and winter dishes get the call here – lamb tagine or some type of Bolognese-style pasta (ideally with egg pappardelle here) for the carnivores, chickpea stew or a meatless version of the pappardelle with a tomato-focused sauce for the vegetarianos.

Music: John Coltrane Untitled Original 11386 (Take 5) from the recently released "lost album"; Tokio, Hector Costita Sexo (from Nicola Conte presents Viagem); Moment Of Hesitation, Flying Lotus; Teru, Wayne Shorter; Doomsday (feat. Pebbles the Invisible Girl), MF Doom
2014

The magnificent 2014 vintage helped produce what might be my favorite version of the Grenache-based composition we call Verve since it became a "permanent" member of the annual line-up in 2010. It combines the mysterious cool depths of an old well with the youthful vibrancy of freshly picked cherries with the morning dew still on them. A wine with an appetite for all things earthy, savory, this charming Scarlet Woman is ideally suited for a damp fall or early winter evening observed from indoors near the hearth. Verve is Grenache with a small dose of Syrah and a bit of Roussanne, raised in large, neutral French oak vessels for upwards of two years. In order to fully reward you with all its firm, youthful pleasure, Verve wants you to decant it in the morning before heading to work to enjoy that evening while in its early years (and might age indefinitely in your cool cellar for later enjoyment).

Food: If it is to be meat, then a kid stew, roast leg of lamb, or osso buco would be top choices. If only a little meat, then egg fettuccine with a lamb ragout. If no meat, then one of the two chickpea stews that can be found in the great 'Plenty' cookbook.

Music: Anouar Brahem – Al Birwa; Gabor Szabo – Mizrab (Live, 1967 Boston); Trio Maraya – Cantho De Ossanha; Jaco Pastorious – Amerika; Rostam – Wood; Alt-J – Hand-made; The Decemberists – After The Bombs; Devendra Banhart – Brindo; Ali Primera – En Yunta; Gene Ammons – Ca' Purange; Chico Hamilton – El Toro (Mark Clive remix).

Details: Majority Grenache and a dash of Roussanne from Watch Hill, with additional contribution from 15% Bien Nacido Syrah fermented with 30% whole cluster inclusion on native yeasts, and raised a little over two years in seasoned French Oak puncheons and stainless. Verve is seductively charming and convincingly racy as an early drink (decant for at least 12 hours), and will likely evolve for 10-12 or more years in a cool cellar.
2013

There's this old trick of determining the depth of a well by dropping a stone and counting until you hear the sound. 2013 Verve reminds me of that – total darkness, the cool sensation of the mysterious world underground, and textural depth that can only be approximated. The 2013 Verve consists of Grenache, Syrah, Cabernet Franc, and Viognier – a composition only possible through the magical climate of the Santa Ynez Valley. Verve yields the beautiful dark aromas of wild berries (not found in grocery stores) and the rest of aromatic picture composed of the Northern woods, a campfire, and someone meat grilling far off. I love Verve's strong but playful tannin and underlying freshness.

Food: If that fire-chef dude from Argentina (what's his name…Francis Malmann) were handy, that would be great – I've never eaten his food, but watching a couple of chef's table episodes, I imagine that his food would be perfect. Since he's probably not (handy), a substantial (read meat-centric) meal would work best, but in either case, things cooked over an open flame, with lots of smoky character would be a good choice.

Music: Argentine greats Jose Larralde or Jorge Cafrun, would be great choices to go with the smoky meat theme. If something with a little more funk feels right, then Hugh Masakela, Ray Lema, Orlando Julius, or Mulatu and Heliocentrics will work.
2012

2012 Verve – is that lovely fair skinned librarian with her thick dark hair, wearing the blue polka dot dress; there is a compelling tension between her assertive glance and warm smile. Butterflies precede her, and it's hard to understand where her generosity comes from. Her feistiness is hiding behind those glasses and though reserved, she inspires your imagination to dreams that no one else knows about. So despite a lack of interest in the act of reading, it's difficult not to keep coming back even if time and again the reward is only a smile, a glance, and another volume…

Food: This calls for the exotic, and opens up possibilities for north-African dishes and Indian curries – making sure they are the onion-based types (Kolhapuri, I think), which bring out the best in Grenache, as I learned from wine director Michael Dolinski of New York's Junoon. If playing it safe, go with traditional classics like Cassoulet.

Music: Ravi Shankar – "Raga Malgunji" (Living Room Sessions, Pt. 1), "Dhun, in Dadra & Teental" from the epic Live at the Monterrey Pop festival recording; Drum solo "Pancha Nadai Pallavi" from Shankar & Zakir Hussein. There are two beautiful recordings collection called "Barzakh" and "The Astounding Eyes of Rita" from Tunesian Ud player Anouar Brahem, which is as exotically perfume-laden as the wine itself; or Edith Piaf if you're going for the Cassoulet.
2011

Not a lightweight, but like with some of the music recorded on its namesake Jazz label from the old days, attractive tension is framed by the sort of weightless transparency that wraps around the tongue like the fine fabric of a favorite summer scarf around your neck when evening falls; the selection of non-primary colors are woven into a pattern that reminds of parts of the world that are still a mystery to us here in the Western World, with all their exotic fragrances and flavors.

Food: Pull out any of Yotam Ottolenghi's cookbooks and you'll find something to go with this – roasted eggplant dishes, couscous with currants and almonds, braised eggs with lamb and tahini sauce.

Music: more Miles Davis, tunes like "Sanctuary" and "Mood" from the 1965-68 Quintett Recordings, or something more exotic like Anouar Brahem's "Barzakh" recording on ECM.

Ideal temperature: Just above cellar temp – low 60's to start.

Decanting: Yes, always a good idea if possible. Several hours would be best, but even 20 minutes does wonders.

Recommended Stemware: Large Burgundy or Bordeaux bowls both work well, producing different results.
2010

Here's what the dictionary says this about 'Verve': noun: enthusiasm, energy, spirit, life, force, punch (informal), dash, pep, sparkle, zip (not code), vitality, animation, vigor, zeal, gusto, welly (slang), get-up-and-go (informal), elan, brio, vivacity, liveliness, vim.

My growing love affair with Grenache had been hampered by the fact that great Grenache vineyards in Santa Barbara County have been scarce – so we planted a few acres in two of my favorite vineyards; these new plantings rewarded 3 years of diligent coddling with the most beautiful inaugural raw material, and the end-result is the first Sanguis wine to be labeled as Grenache. We picked the grapes for this wine the day after Thanksgiving 2010. Here's that scene: 5AM, it's pitch black out, twelve guys with a bit of that Thanksgiving hangover are standing on a lonely hillside with spelunker headlights on their heads and shears in hand, it's 27 degrees out, the Santa Rita Hills wind is blowing – one of those aforementioned character, beauty & balance building exercises.

Composition: Grenache, co-fermented with small amounts of Syrah and Viognier with about 21% whole cluster inclusion, raised for 23 months in a combination of new and 'certified self-pre-used'TM 500, 300 and 228L French oak barrels. (Sadly) only 175 cases  bottled. Unfined and unfiltered.

Note that we have changed the appellation on all of our labels from the very generic 'California' to (the only somewhat generic) Santa Barbara County appellation – owing to the fact that since 2009/10 we grow the raw materials in custom-planted vineyards where we hold long-term leases, all of which are located in the county. And because we believe that Santa Barbara county is one of the world's optimal growing regions, capable of consistently achieving greatness.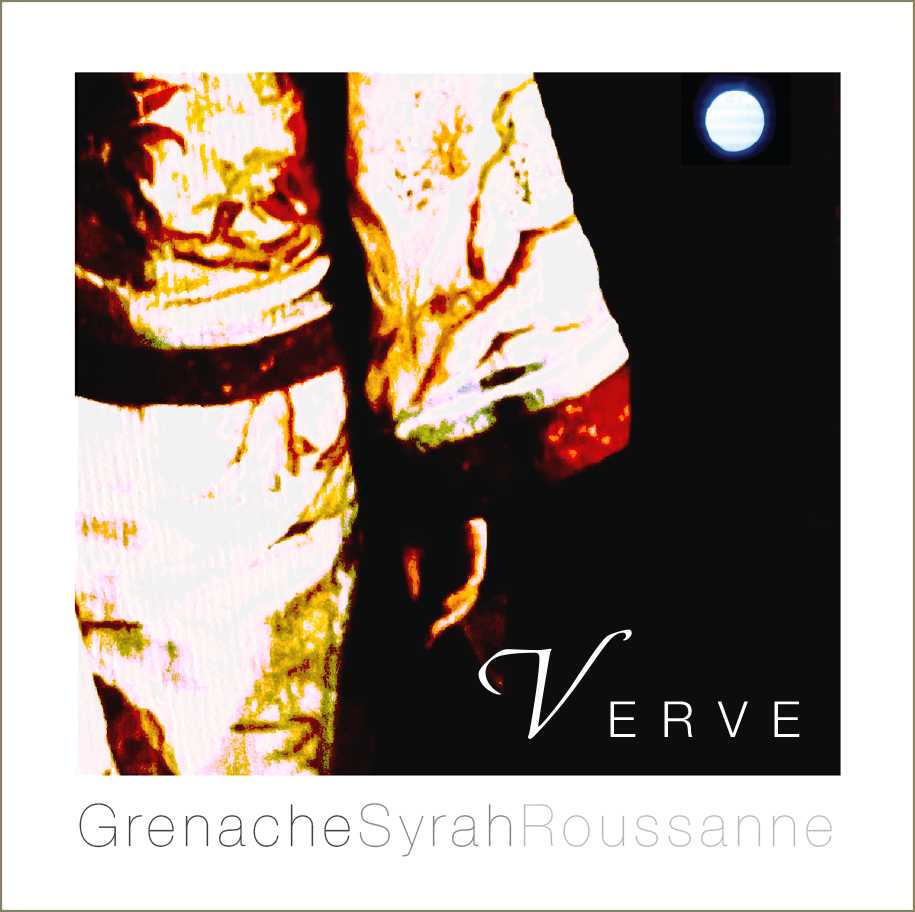 ---