One-Off Whites
Serious white wines have a special place in our hearts and we love the varied characteristics of which different combinations of Chardonnay, Viognier, Roussanne, Marsanne (and occasionally a few others) are capable.  It is our pursuit of natural balance and love for exploration and playfulness that prompts us to create these white wines whose composition changes along with their names and labels with each vintage.
Vintage Notes
2015 Wildflower

Something in the wild aroma-profile of this Marsanne Roussanne-Viognier composition conjure up the image of a golden field where the sun's warmth is occasionally interrupted by a brisk breeze from the nearby ocean. Innumerable fresh and dried flowers and a subtle hint of honey introduce themselves even before you lift the glass; these are followed by a rich elegance and assertive freshness once you take a first sip…and then, sunshine fills the room…

Food: Cheese, good sourdough bread with butter and olive oil, a ripe pear and a salad of peppery greens; a white pizza with fontina and caramelized onions; or just open a bag of Trader Joe's addictive nacho-flavored tortilla chips and make sure someone's there to share the bottle with you before you make it disappear all by your lonesies…

Music: Wildflower Blues – Jolie Holland & Samantha Parton; Old Man – Neil Young; Seahorse – Devendra Banhard; Loch Lomond – Sotto Voce Quartett; Laminated Cat – Jeff Tweedy; New World In My View – King Britt & Sister Gertrude Morgan.

Details: Mostly Marsanne that was co-fermented with a little Viognier and Roussanne, went through a nerve-wrecking journey in semi-ancient Sirugue barrels in which it briefly saw the dark side, but decided to come back with a fully developed personality of floral/honey-like aromatics and a invigorating racy quality. [Just about 100 cases produced]
2014 The Hat Trick

There is a scene I love in the movie American Hustle (great movie by the way), where Christian Bale's character says "who starts a song like that?!" after Duke Ellington's "Jeep's Blues" starts off, all guns firing at once. The beauty of that tune is both in its sultry nature, and in Duke's clever and risk-friendly idea of turning the traditional song structure (starting low and building to a climax), on its head…placing the tenderness at the end. Somewhere around 2008 or 2009 we made a wine called "Postcard from Morocco". Sharing the crazy nighttime scents of blood orange and lemon blossoms, jasmine, and a thousand unknown plants that release their aromas as the night provides relief from the daytime heat, this is Postcard's elegant sister.

She is of a wild nature, and knows it, coming on strong from the beginning and leaving with subtle tenderness…"come back, why did you leave…?" Fermented on native yeasts at cool temperatures, followed by extended lees stirring during full malolactic conversion, and a 24-month "rest period" to develop its full depth and seductive character.

Food: As an aperitif while waiting for food is one option. Great cheese, marconas & membrillo or dried figs and a spicy arugula salad for lunch works great. But the beauty of this type of white wine is that it can stand up to a "man's meal". So a roast chicken, grilled meats, or that delicious chickpea soup from the cookbook "Plenty" (which we eat weekly).

Music: So, of course Ellington's 'Jeep's Blues' would be appropriate (Live at Newport is the version you want). Andrew Bird is a great match here, and somehow, south America seems to beckon…Baden Powell, Trio Maraya, or good ole' Astrud and Joao Gilberto tunes from the 60's.
2014 The Eighth Veil

Mystery, intrigue, charm, deception, sensational curves, strength of character, a cool demeanor, and a sunny disposition – the Veil reveals each of these characteristics slowly as it opens in your glass! Like dawn and dusk, this is a composition of two diametrically opposed elements that compliment each:

Chardonnay encapsulates the late summer's warm sun rays and the saline-fresh character of a Pacific ocean breeze that recalls the season past, while the Roussanne provides the sort of substantial body and balance that make it an ideal partner for robust fall and early winter meals (as is customary for the whites of our fall releases). So enjoy this with a hearty meal while contemplating your fondest memories of the summer past. Raised in (mostly seasoned) large French oak and stainless steel barrels for two years, the Veil is a pleasure to drink now but worthy of a 10-year parking spot in your cellar.

Food: Ribollita, or a (meatless) Tuscan-style kale and bean stew; most pasta dishes with non tomato-based sauces; good cheese, paté and charcuterie with toasted sourdough bread and a salad. Also a great companion for expertly-made ramen.

Music: Jolie Holland – 'Damn Shame; Tsegue-Maryam Buebrou – Evening Breeze; Kelly Joe Phelps – That's Alright; Radiohead – Weird Fishes/Arpeggi; Hector Costita Sexto – Tokio; Claudia & Brazilian Octopus – Gusto Deser Tomo Sou; Andrew Bird – Scythian Empires; The Stones – Moonlight Mile, 100 Years Ago, Prodigal Son.

Details: Upwards of 70% Chardonnay from Bien Nacido and Roussanne from Watch Hill Vineyard making up the balance, this lovely composition was raised in neutral large oak vessels and stainless for just under two years. Both primary fermentation and full malo-lactic conversion carried out by native yeasts. Ready to drink now and likely to evolve for 8-10 years.
2013 Borrowed

Most of us associate white wine with warm weather – and for good reason: just as the only excuse for drinking cheap beer is that its cold and thus refreshing on a hot day. Lamentably, too many white wines also fall into that category. By now you know our deep commitment to making white wine at absolutely the same level of seriousness and captivating beauty as our reds. This is a white wine for the colder months. The deep, round, and exotic aromatics remind us of a day filled with shadows as much as light, of a field of damp grasses and flowers, dried herbs, and the comforting scents of a French bakery. The robust body and soul of this dramatic cloudy day want you to marry it to a substantial meal.

Food: A roast chicken, or grilled meats, maybe accompanied by ratatouille, or oven roasted root vegetables to usher in the romance of Fall and celebrate the beauty of Winter. But one doesn't need to go that serious – this works equally well with well-chosen cheese (hard or soft / simple or decadent), some walnuts (fresh from the shell if handy) and a simple tossed salad.

Music: I'd go with old Brazilian stuff, like Canto de Ossanha from Trio Maraya, Guitar virtuoso Baden Powell; or Donald Byrd's "New Perspectives" Album, or the Blue Note 75 sampler
2013 Beekeeper

It's a clear early morning in California, or maybe somewhere in North Africa. The sun's just coming up leaving long shadows and creating seven different shades of blue, one for each fold of the surrounding mountains. The air is thick with aromas from sage, orange blossom, jasmine and the dew lifting from the dry grasses. Someone is listening to a Nick Cave ballad (maybe "Black Hair", or "Lime Tree Arbor"), making coffee…must be Sunday…

Aroma is what comes first in white wines, not only in the sequence of how we experience it but, at the end of the day, I would probably trade aromas for all the other components. Marsanne, Viognier and Chardonnay have both aroma and texture in spades. If one were a bee, and this wine were a blossom, one would spot this flower from a mile away through your sense of smell; once inside, the nectar delivers what was promised, and chances are you won't find your way out and back to the hive that day.

Food: I'm not a fondue guy, but a cheese fondue might be great here…or if not, then just some really great selections from your local cheese monger along with an arugula salad with lots of lemon juice, good salt and olive oil, some walnuts and a sliced pear. Or a white pizza with squash blossoms that somebody else stuffed with goat cheese (because …no!)

Film (new random category): If its pizza night, then for sure, but even if just cheese, etc.: The Assassin by 68 year old Taiwanese director Hou Hsiao-Hsien (who looks half his age, probably owing to pearl cream or some such miracle). This was shot in 70mm and should be seen on an adequate theatre screen but didn't last long enough in the three US theaters where it played…'hope you have one of those awesome widescreen TVs, but either way, this is beautiful …and easy to watch, if hard to follow.

or good old Music: some ballads from Nick Cave, Phosphorescent's "Too Sick To Pray" or "Can I Sleep In Your Arms".
2012 Floral Study No. 2

This bottle is an early summer day on a bicycle. It's both warm and cool. Honeysuckle, pear, apple and lemon are all in bloom and someone's mowing a lawn a ways off and the breeze carries that captivating nostalgia of the fresh cut grass and the burnt petrol your way…bees are buzzing, crickets and birds are doing their thing…you think you'll ride down to the river, sit under a tree and put your feet in there for a while. A couple years ago, our mailman and I happened to reach the front door of our winery building about the same time one morning. I'd never met the guy before (other than the usual conversation through the mail slot to the right side of my desk in the office …"how you doin?" -"good, you?" – "good" – "have a nice day" – "you too"). The mailman said "hey, you're a winery in there, right?" – "Yes" – "Well thank you for introducing all these great smells to the neighborhood!" …When we ferment the whites, it is like a cloud envelopes not only the building, but pretty much the whole little block we're on. You could take a pillow (or even some cardboard) and lay down outside our winery's door and you'd have a happy smile on your face all day long. This one is enthralling (another underutilized word), dense and playful.

General direction for Food: There is enough substance here to work with a broad variety – If it used to swim, then Seabass, Skate, or Char are good choices, a simple roasted chicken, or a pork belly would be equally good partners. There is enough of a cooling effect from the Roussanne to work with spicy components and enough acidity from the Chardonnay to slice through fatty substance, but be sure to include some colorful stuff from mother nature too!
2011 Incandescent

The first of our 2011's to be released and a great representative of the vintage as a whole: the spotlight is squarely on balance, elegance and a certain youthful innocence rather than the power of both its predecessors, 2009 & 2010. Having said that, this blend that tips the scales heavily on the side of Roussanne is, as most of our whites, not a wine for the faint of heart. Roussanne in the Santa Ynez Valley tends to be on the very voluptuous side of the spectrum, and I've started using a percentage of stainless steel barrels for the upbringing in order to preserve and accentuate the pretty youthfulness.

'Lovely' is the first word that would pop up every time I smelled the components that make up this blend; the nose may deceive the intensity the wine has on the palate, but it is density (like high thread-count linen) not weight that marks this wine's character.

Composition: Roussanne cold soaked and fermented on the skins, raised for 6 months in new 500L then transferred to used 225L French oak, and stainless steel barrels; Chardonnay and Viognier raised in new 300L French oak and stainless barrels. Less than 300 cases bottled. Unfined and unfiltered.

Note that we have changed the appellation on all of our labels from the very generic 'California' to (the only somewhat generic) Santa Barbara County appellation – owing to the fact that since 2009/10 we grow the raw materials in custom-planted vineyards where we hold long-term leases, all of which are located in the county. And because we believe that Santa Barbara county is one of the world's optimal growing regions, capable of consistently achieving greatness.
2011 Out of Line

The lone and last of the beautiful 2011 whites. Like its 2010 sibling, this is mostly Chardonnay, but with a slight twist (our secret). It spent 27 months in barrel (mostly 'used').

This wine is serious stuff but it's primary objective is to provide easy pleasure, and remind us of those long-ago carefree sunny summer childhood days in fields filled with aromas of countless nameless flowers, and laying down in bed at night and giving into refreshing sleep almost immediately. They will never return, and this might be as good a substitute as we get…
2010 Out Of Line

The last of the Mohicans – OK not actually Mohicans, just the last barrels of white wine from a really wonderful white wine vintage. While much of the Chardonnay we make now gets bottled as a stand-alone under the 'Loner' designation, its is hard to resist the temptation to step out of line occasionally and indulge in the combination of Chardonnay and Roussanne. The later is represented by less than 5% but makes its presence felt in both body and spirit. The majority component, Chardonnay, comes from the four acres we were able to plant with the folks from Bien Nacido in one of the blocks there that seems ideally suited for Chardonnay – lots of sunny days during the enEre summer ensure beauEful ripeness and temperatures that rarely exceed maintain a healthy balance of acid that holds it all together and maintains the wine's focus.
2010 Postcard From Morocco

When I was a kid our family once went on a winter trip to north Africa and what was then the epitome of an exotic place for a 12-year old German boy, chilled to the bones from months of damp, gray winter. We finally arrived – after flight delays in Munich due to a snowstorm, and more delays in Tunisia (evidently due to a sandstorm) – around midnight. The first thing that hit the young German boy as he exited the old DC-9 (or DC-whatever – it was old) was the warm breeze heavy with the intoxicating scents of the abundant blood orange blossoms and night jasmine planted there. This wine is as close to that experience as it gets (and the experience is probably at least 29.7 responsible for the choice of my current profession and passion for things that smell great…especially at night).

The wine is a product of the first of several new vineyard blocks we planted in 2006/07, this one at John O'Donnel's beautiful Watch Hill Vineyard – a beautiful hilltop block planted mostly to Roussanne and lesser percentages of Marsanne and Viognier.  (Full disclosure: a little bit of Bien Nacido Chardonnay also snuck its way into this wine – but, hey that's OK, this is Sanguis – everything goes).  [260 six<pack cases produced from 3.5 acres]

Please note that this wine – as all Sanguis wines – was bottled without fining, filtration, heat or cold stabilization in order to preserve its full character. While in its youth, this particular wine will turn hazy when chilled below 53F (or so) and will turn clear again when coming up to temperature in the glass. Postcard from Morocco tends to show best at or just slightly below cellar temperature and this turning hazy business is like nature's way of telling us that the wine is too cold – uncanny!
2009 Uncloudy Day

Uncloudy Day is the title of one of my favorites from guitar great John Fahey, whose music I love (you can find two recordings of it – of which the later one is the best – on 'The Legend of Blind Joe Death'). Chardonnay, when not made in the typical overweight California style has the same sort of clarity that this recording has (to me, at any rate) – I suppose that's why I chose that name. Rarely a true purist, small amounts of Roussanne and Viognier make cameo appearances as well.

This is a wine that has the capacity to age, so if enjoying it during the early stages of its (then very short) life, decant for an hour or two beforehand (and save a little for day 2).
2009 Ode To Sunshine

If all vineyards behaved like Bien Nacido and all vintages like 2009 (at least for the whites), life would be a breeze (and there would likely be more single vineyard wines from Sanguis) – I really got conned into planting 4 acres of Chardonnay there by one of the world's greatest vineyard managers (and nicest guys), Chris Hammil – and I never regretted it.

So while a few years back I would have likely told anyone that I probably would never touch Chardonnay, a site that enables us to retain these beautiful acid levels while also achieving stunning ripe aromas and flavors, I am now an official convert, and this is our first example of a single varietal, single vineyard Chardonnay – with many more to come…
2009 Lotus Of Siam

Those who are both, foodies and gamblers have been to Las Vegas many times then, and will undoubtedly be aware of the off-the-strip gem of a restaurant by this same name. And I guess whenever I tasted through the barrels that now make up the final blend, I always thought of that sort of food (with which this wine will work exceedingly well). I'm (obviously) an absolute sucker for Roussanne and think that small percentages of Viognier (in just about anything) are usually a good idea.

This wine has a lot in common with the FatboySlim remix of Macy Gray's 'Demons' –bright with a sparkly personality one the hand, decadent, unctuous, slow and oozing sexuality on the other (…and if that doesn't sound good, beer might be your beverage of choice).
2008 The Narrow & Straight

While I'm a big fan of Chablis and a few other spots across the ocean, I'm not the biggest fan of California Chardonnay (with a handful of exceptions); so I surprised myself with the choice of planting four Chardonnay clones at the famous Bien Nacido vineyard a few years back. But hey, this might be one of the sites for the stuff and I love working with Chris Hammil, the vineyard manager.

Clones 17, 76, 95 and 96 were all pressed and fermented together with a small amount of Viognier, subsequently aged in a combination of new French oak and stainless barrels with lots of lees contact and full malo-lactic conversion, and then bottled unfiltered and un-fined.
2008 Ramshackle & Threadbare

In 2008, I started a consulting engagement with a special vineyard, named Refugio, tucked into the hills just south of Santa Ynez. Since we decided not to produce any whites for the estate in year one, I grabbed that 1.2 acres of Malvasia for Sanguis – sadly for only that one year…

Frankly, I didn't know how it would turn out or what I would do with it, but realized that it's flamboyant yet somewhat one-dimensional personality would be a great match for Roussanne. The Malvasia really needed some reigning in, and while it may seem a strange concept to tame anything with Roussanne, it works – a bit like controlling fire with fire. The outcome is something that to me is almost Alsatian (and can actually stand up to a meal of grilled sausages and sauerkraut, if you like).

The wine was bottled unfiltered and un-fined, and, as most of our wines will throw a small amount of sediment.
2008 Broken Flowers

While the main focus for this release are the aforementioned 2007 reds, there is a special treat from the 2008 for you, our loyal supporters: It is only in a rare vintage, when conditions are just right, that we'll bottle a wine that is 100% single varietal and single vineyard – especially Viognier, which too often is too much of a good thing by itself. Given the tiny amount of old-vine Viognier acreage that we have at Bien Nacido, the total production of this wine came from a single barrel to make up a mere 275 bottles, and is available only to you and a small handful of restaurants that have supported us from the early days, Fractured Flowers is a display of what a great vineyard can give; as such, the wine was kept in 'neutral' oak to minimize the impact from wine making and allow the wine to be a pure expression of its site and vintage, and of what this winemaker thinks of as beautiful.
2007 Acromion

acro·mi·on/ (ah-kro´me-on) (from Greek: akros, "highest", ōmos, "shoulder"), is an anatomical feature on the shoulder blade (scapula), together with the coracoid process extending laterally over the shoulder joint. (…in other words a chip on your shoulder…?) We are fortunate to have access to one acre of Roussanne at the fully biodynamic Demetria ranch behind the Zaca Mesa Plateau, situated in a cool area halfway between Santa Ynez and Santa Maria.

Roussanne – and this particular vineyard – ends up being a real labor of love. And while I love to complain about all the challenges that are involved (how out of the way this vineyard is; the consistently miserable yields; and not least, the fact that yellow jackets and bees appear to have a particular fondness for this grape and eat about 20% of the crop in the last two weeks before picking), I love the end result more.

The final blend is 92% Roussanne, which is complemented by 8% Viognier. Both were partially fermented on their skins and then finished their 'upbringing' over the course of 20 months in barrel. Never racked, nor filtered, fined or cold-stabilized, it's a sizeable wine with phenomenal acidity. Slightly opaque now, it will throw some sediment over time. It is a wine for…well, everyone (because what self-respecting human would voluntarily describe themselves as 'faint of heart'…?)

There are a mere 550 bottles of this wine (courtesy of the yellow jackets and bees).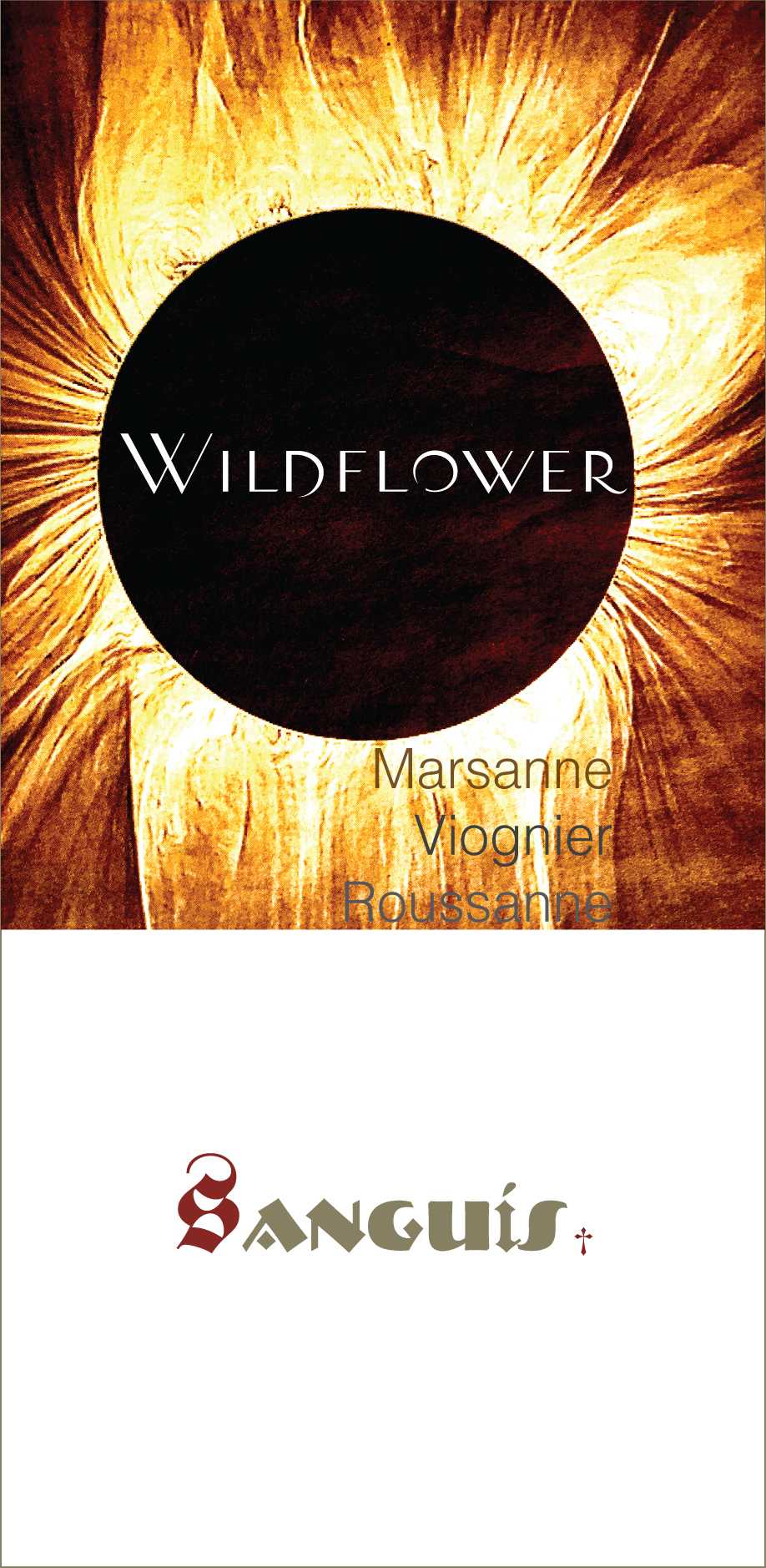 ---