1/1
In almost every vintage there is a Syrah-based barrel of singular and complete character that deserves to stand alone and shine.  Since 2010, we have bottled those barrels as the wine we call 1/1.  Each of these limited bottlings tells the compelling story of its breed, vintage, and the soil in which it grew with elegance and impeccable style.  One of One – Singular; 1/1 – a full measure.
Vintage Notes
2020 Grenache

Our favorite Grenache barrel from the 2020 vintage defies description, in the way that being in love does.  Very limited availability.

Like trying to describe what being in love is like, or why you are, these 1/1 bottlings are always the toughest for me to really describe.  This is as close as I can get: ridiculously aromatic, like a field of flowers woven into a bowl of red fruit and an array of spices, and things I don't even know.  This 1/1 Grenache goes on to dance on the palate with the vervy elegance and sinewed strength of a trapeze artist, and lingers there long after it leaving your oral orifice.  The simpler way to put it would be: I'm hopelessly in love with this wine.

Vitals: Predominantly Grenache from the upper-most portion of the Watch Hill block, co-fermented with fractions of its neighboring Roussanne and Kimsey Vineyard Syrah on native yeasts, and with 45% whole cluster inclusion; then raised in a seasoned 400L French Oak barrel for 29 months

Food: Whatever your favorite meal is, the simplest pizza to the most complex elaborate dishes will work (sushi probably won't, and pro tip: always skip the kimchi when drinking wine)

Music: Sound and Vision (2013 accoustic), Bowie \\ Instant Crush, Daft Punk \\ Subterranean Homesick Alien, Radiohead \\ Rambler, Ginger Baker Trio \\ Doomsday, MF Doom \\
2020 Syrah

What it is: From our single-favorite John Sebastiano Syrah barrel, fermented 65% whole cluster fermented with splashes of Grenache and Viognier, raised with love, care, and admiration.

What it's like: When that attractive fantasy nurse from your youthful days raises the eyebrow, winks as if to say "what's your pleasure", and snaps the glove, at first you worry a little, but then quickly realize that the flowers on the bedside table are real, and then you know this is gonna be fun, and that she's not really a nurse anyway, just dressed like one…because it's all just your fantasy, you pervert! Well this is what this wine is like…a guilty pleasure.

Food: Shanghai soup dumplings; if those are not handy, any other type of meat or savory vegetable-filled dumpling – Wontons, Gyoza, Swedish Kroppkakor, Indian Samosa, and lotsa of dips; nothing overtly spicy. It should be a feast where you can take your time because everything tastes good regardless of temp

Music: Shabop Shalom, Devendra Banhart \\ Pararty, Mia Doi Todd \\ Kinky Reggae, Bob Marley (live) \\ Boletim, Troi Maraya \\ Piano Sonata No. 16 in G, Op. 31, L.v.Beethoven (F. Gulda version) \\ Baby Where You Are, Ted Lucas \\ Old Man, Neil Young
2019 Grenache

"…exceedingly charming, exotic spice, a mysterious dark beauty; unusually lovely balance of energy and elegance; fleshy, silky, assertively bright and racy; the color betrays the mouth; riveting tension (Elliot, reluctant to use wine-writer vocabulary says "I hate to say it, but also, graphite"); great in both glasses (Burgundy and Bordeaux)…I think I might be in love, needs nothing" – those were my tasting notes…and they are befitting this lovely single barrel bottling.

Vitals: Unanimously, our favorite barrel of Watch Hill Grenache co-fermented with 50% whole cluster inclusion and tiny amounts of Roussanne and Syrah, raised in a seasoned 400L puncheon without seeing light for 27 months.

Food: Other than sauerkraut and kimchi, I can't think of much that wouldn't work – flora, fauna, fish, fowl…even one of those boring turkey sandwiches would probably be ok, if you've got nothing else handy…

Music: The Necks, Sex (iTunes now finally has this epic 1989 recording, $9.99), or whatever else makes you happy
2019 Syrah

The most succinct Syrah barrel of the year, 1/1 is rarely the biggest of them, but rather the one with the most enchanting personality and athletic agility, always elegant, like a body that is beautiful to behold both in stylish dress and unclothed. This 2019 edition announces itself with vibrant color, beckons with a crazy exotic perfume that marries images of a Tunisian spice market with that of Japanese cherry trees in bloom, and finally convinces with an eloquent presence that likes to linger on the palate long after departing your mouth…a line from Giorgio Seferis "the sun in your eyes, birds on your shoulders" comes to mind…

Vitals: From a windswept parcel of the John Sebastiano vineyard, planted to stubbornly idiosyncratic own-rooted Estrella-Syrah vines, fermented on native yeasts with 50% whole clusters, and 9% Viognier from the other (even more windswept) side of the hill, raised on its lees for a little over two years in a beautiful 500L Ermitage barrel.

Food: Tea-smoked duck…though really anything you love probably works

Music: Imminent Shadow, Spencer Cullum; Ya Sumera, The Divine Comedy; Fleurette Africain, Duke Ellington; Blue Melody, Tim Buckley; Gottes Zeit ist die allerbeste Zeit (JS Bach), György Kurtág; Tightrope, Laurie Anderson; Ikebukuro, Brian Eno; Time on my Hands, Keith Jarrett (Carnegie Hall concert)
2018 Grenache

I love pure Grenache, and pure Grenache seems to love being deceitful, a practical jokester. This 2018 1/1 starts off coy but fills the room with a heady perfume of red flowers, rose water, gently steeped black tea, and aroma of tea-smoked duck wafting through the chilly San Francisco night, with just a little time; its color betrays everything about this, my favorite, Grenache barrel from 2018 – looks mature and light, but behaves like a sassy youngster, loading the pallet with resonant layers of pomegranates, cherries, and all manner of grilled and smoked savory notes in an ever-expanding finish. As always, 1/1 will reward patience. Best enjoyed over the course of 2-3 days during youth, or cellared properly for 4-5 years+

Food: pork-filled soup dumplings from a proper dim-sum joint, or a delicious roast chicken, fingerling potatoes and sauteed swiss chard or beet greens with lots of olive oil, lemon and pepper

Music: Into The Mystic, Van Morrison; Westbound train, Chrisopher Denny; Ficas A Saber, Antonio Dos Santos; Dignity (Piano Demo), Bob Dylan; I Can See The Pines Are Dancing, A.A.
Bondy; Water Run & Coal War, Joshua James; The Dark Garage, Tom Brosseau; Köln Concert, Part 1, Keith Jarrett
2018 Syrah

Combining the mysterious charm of ancient ruins with the graceful energy of mid-century modernism, this singular barrel won my heart with its cool caress, warm smile, transparent purity, and sheer wildness. I love Syrah best where it struggles through marginal weather for much of the year, with just enough kisses from the sun to keep it hopeful, as it did in 2018 in this block of own-rooted Estrella clone, planted on a windy south-facing ridge of the John Sebastiano vineyard, on the eastern edge of the Sta. Rita Hills, where the hillsides soar steeply right up to the clouds.

Food: a seared hanger steak, cumin-roasted carrots, and an assertive arugula/treviso/dandelion salad; anything cooked over an open fire (a Weber qualifies); most fried things (just not buckets of KFC wings)

Music: Sweet Pea, Miles Davis; Into My Arms, Nick Cave & The Bad Seeds; Laminated Cat, Jeff Tweedy; The World's Greatest, Bonnie Prince Billlie; Slow Revolution, Alexi Murdoch
2017 Syrah

What's as good as the thrill of a kiss on the lips from your "still the one" after all these years? Nothing; including this bottle of wine. But if there were no kisses on the lips, I'd probably reach for this when in need of something that will hold my interest indefinitely, and is both lovely and thrilling.

Fittingly, this composition – of own-rooted Estrella-clone Syrah and Viognier, which was raised with patience in a single (neutral) French Oak barrel for about 26 months – hails from a vineyard (John Sebastiano) that shares all the characteristics of a long-term, anything-but-easy relationship, and which ultimately always pulls you back toward it, and gives you a kiss and a smile when least expected.

Food: just not Kimchi and anchovies…we tried everything else; kimchi was the only thing that didn't work; it might work fried but everything else works, so why bother? …oh, because now you want the unpredictable, the surprise…? I'm telling you, not kimchi, it doesn't work! (salt-cured anchovies on toasted sourdough with lots of butter actually works pretty well…it might move you a bit off-center, but that's what you want now, right?)

Music: You Ain't Alone (live), Alabama Shakes; Beggar In The Morning & Old Mythologies, The Barr Brothers; Peace Piece, Bill Evans (and also the Kronos Quartett version); Heart Of Gold, J.S. Ondara; After The Rain, John Coltrane; Rebus, Paolo Conte
2017 Grenache

Stealing the occasional taste from this barrel was like that fleeting sensation of first-time holding hands, feeling the acceleration in the course of each other's arteries through the contact of thirsty fingertips; and since that is an elusive feeling, this had to be bottled as a single barrel! It is a singular wine, and I am sad that there is so little of it!

Raised in a seasoned 500L for a little over two years, this is whole-cluster fermented Grenache from a parcel that we planted in 2007 to head-trained vines in Alisos Canyon, which now produces fruit of elegant purity, redolent of rose petals and pomegranates, and heady as lilies.

Food: whatever young lovers eat…probably pizza…probably in bed

Music: Strange Effect, The Kinks; When Day Is Done, Rosenberg Trio; Marseilles, Ahmad Jamal (feat. Adb al Malik); Le Crocodile, Bazbaz; The River, Eno/Cale; Come into my sleep, Nick Cave

100 3-packs & 20 3L bottles were made by caring hands in our humble bodega on the east side of Santa Barbara proper.
2016 Syrah

As always, these are the barrels that put a smile on my face from day one, and thus
prompted me to muster the discipline of just standing back and enjoying their evolution. 2016 1/1 Syrah was vinified with 60% whole clusters on native yeasts from my favorite (Estrella) clone, grown at the savage John Sebastiano vineyard, co-fermented with a little dash of Grenache and Viognier that we picked the same day, and raised in a single new 400L barrel that was custom-made for us by the famous Ermitage cooperage. It is the most individualistic, elegant, and compelling Syrah barrel from this vintage, marked by purity and underscored by the smoky, earthy, and slightly saline character that I think is typical for Sta. Rita Hills Syrah.

Offered exclusively as a three-pack of two 750's + one magnum. Alternatively offered as a single 3-liter bottle for long term aging. Just 70 three-packs & 10 3-liter bottles to go around.
2016 Grenache

…to be bottled is as much of a joy as listening to Elvin Jones playing the drums, watching your favorite Wes Anderson movie, or maybe even walking the Portland Japanese Gardens with your loved one…it has that subtle loveliness that you hope never to end or having to loose, knowing all the while that the concept of permanence is a fleeting idea that we made up to feel safe.

Grapes raised at the magical Watch Hill vineyard, fermented gently on native yeasts, and laid to rest in a large seasoned oak vessel to develop itself fully over 27 months. Like those special presences in our lives that we never want to let go of, there is little of this to go around, and while it too is fleeting, we took care to make it in such a way that promises longevity so long as you do your part to take care of its handling.

Food: Sushi at Sasa in San Francisco's Japan-town on a Wednesday evening.

Music: Keith Jarret's Köln Concert, or just silence.

Just 60 three-packs (consisting of two 750ml bottles and one magnum) and 9 three-liter bottles are available to the world:(
2015 Syrah

As is always the case, 1/1 is the barrel that I fell in love with on "first encounter", and which kept my undivided attention throughout it's two-year journey to bottling. Unusual and strong characters are always the most interesting to me, and this one is no different. It is the most idiosyncratic and mysterious of the 2015s, with ample elegance, loads of pure fruit and flowers, and qualities like those of smoked meat and the dark crust of an epic sourdough loaf from San Francisco's Tartine bakery. If a person, 2015 1/1 would be a dark-haired, green-eyed movie star from the black and white days, in a red velvet dress giving you a wink before she turns to leave you standing there like a little boy…

Food: Sophisticated but assertive – if meat, then lean and rare, like venison with stewed cherries orprunes and Spätzle would be great; if not, then sautéed mushrooms (like chanterelles or porcini) on toasted sourdough or buttered egg noodles; in either case, some lightly dressed peppery greens.

Music: Dance With Waves – Anouar Brahem; Poinciana – Ahmad Jamal; Moonlight Serenade – The Glenn Miller Experience; Fall in Love – BadBadNotGood

Details: Depressing as it was to pick only half a ton of Syrah from this 1.5 acre own-rooted Estrella Syrah block in Sta. Rita Hills, we knew it had to be great (and to be honest, I had pretty much picked it as my favorite before it even went into barrel. Fermented with 80% whole cluster, with tiny additions of Grenache and Viognier from nearby vineyards, and raised for 2 years in a single thick-staved Ermitage "cigar" (shaped) barrel, there is obviously very little of this delicious elixir…grab it while it's there!
2014 Syrah

As usual, 1/1 is made from a single barrel and is thus the most limited production wine of the vintage. Frequently misunderstood: contrary to convention for California wines, 1/1 does not attempt to win your admiration with sheer power and heft. 1/1 is an athlete whose well-proportioned body combines strength with lightness and speed, whose soul feeds on unwavering determination, and whose mind is of keen intellect and quick wit. This is the kind of athlete who manages to disguise fierce effort in the graceful movements of a ballet dancer – whether it's skiing the Italian Alps, racing cars on the Isle of Man, or bicycles through the French countryside, or throwing a discus every four years at the Olympics. Sometimes out-muscled by competitors the athlete doesn't win every contest, but is always the most enjoyable to watch …float like a butterfly, sting like a bee…

Composition: Syrah with about 7% Viognier and 3% Grenache (combination of Bien Nacido and John Sebastiano Vineyards), raised in a single, once-used 300L Jarnac hogs head barrel.

Music: "Blue 7" by Sonny Rollins, "Riot" by Miles Davis, and the entire "Sugar" album by Stanley Turrentine.

Food: Take this to your favorite chef – someone who gets simplicity, superior raw materials and cooks everything the way it's supposed to be cooked. Someone you trust. Open and let him/her taste it and figure out what to cook for you while this gets a few hours of air.
2013 Syrah

Taking Tiger Mountain By Strategy – this wine is a passionate thinker. It possesses the calm energy of snow falling softly on a Japanese village, and the positive energy of the sun rising after a stormy night in Northern Spain. It is playful like those whiter-then-white clouds that look like animals or other things we see against a bluer-then-blue sky looking up from a Bavarian field, and carries the tension of dark threatening clouds before unleashing the storm as you run home in the rain to the comfort of a fire and a delicious meal. All those things, or whatever pivotal experiences you may have had in their place – that's what 2013 1/1 is.

Details: 100 3-packs (2 x 750 mL, 1 x 1.5L) and, for the first time a few 3L bottles produced from Sta. Rita Hills Syrah with a small amount Grenache and Viognier from a single (my favorite) 400L barrel produced.

Food: Your favorite meal.

Music: Brian Eno's "French Catalogues" (an adaptation of Johann Pachalbel's Canon in D Major, Kamasi Washington's adaptation of Debussy's Clair De Lune, Laura Marling's "I was an Eagle" (and several other tunes from that album), Johnny Flynn's "Bottom of the Sea Blues" (great video too!)
2012 Syrah

As usual, 1/1 is made from a single barrel and is thus the most limited production wine of the vintage. Frequently misunderstood: contrary to convention for California wines, 1/1 does not attempt to win your admiration with sheer power and heft. 1/1 is an athlete whose well- proportioned body combines strength with lightness and speed, whose soul feeds on unwavering determination, and whose mind is of keen intellect and quick wit. This is the kind of athlete who manages to disguise fierce effort in the graceful movements of a ballet dancer – whether it's skiing the Italian Alps, racing cars on the Isle of Man, or bicycles through the French countryside, or throwing a discus every four years at the Olympics. Sometimes out- muscled by competitors the athlete doesn't win every contest, but is always the most enjoyable to watch…float like a butterfly, sting like a bee…

General direction for Food: If bovine, better make it a cut like hanger, flank or sirloin – you want flavor; better yet lamb with lots of garlic and rosemary, or venison on the rare side with some earthy and fruit (like cherries) accompaniments. Or – if you want to give 1/1 true "center stage", charcuterie, some hard sheeps milk cheeses, dried fruits, nuts and a salad.

Music that might be good to listen to while drinking this: "Blue 7" by Sonny Rollins, "Riot" by Miles Davis, and the entire "Sugar" album by Stanley Turrentine.
2011 Syrah

1/1 represents the best single barrel or small lot in the cellar each vintage. A wine that renders my role as winemaker superfluous – none of the crafty blending and massaging that most of our wines undergo to become what they are; a barrel that warns me to stay the hell away until its ready to go into bottle (and puts a smile on my unsmiling face every time I visit to check in) I've actually come to appreciate that (also something that has taken nearly ten years…no guys in lab coats though).

Since the wine defies description, it would be silly to attempt one here. 100% Estrella clone Syrah from John Sebastiano vineyards co-fermented with Roussanne from Watch Hill, making a single 400L barrel, aged 28 months.

Warning: this wine needs time! Wait or decant otherwise you just short-change yourself.
2010 Syrah

From our newest vineyards in the eastern portion of the Santa Rita Hills, the John Sebastiano vineyard, the first two years that these young vines bore fruit happened to fall into the two coolest vintages on record for the area and despite tiny yields (less than a pound per plant on average), achieving sufficient sugar ripeness proved difficult, required patience and creativity (aside from causing serious lack of sleep). However, the results could not please me more.This wine is a rare case of singularity in Sanguis wine production – single varietal, single vineyard, (and lamentably) a bloody single barrel of this elixir is all there is, because it was such a complete thing in and of itself. 1/1, the wine, is of a savage character who in spite of his wild soul does such a fine job balancing savory and sweet notes, firm structure with silky texture, youth and maturity.

1/1 is what the fuel gauge on my dad's old Mercedes said when the tank was full. I never got that as a kid – I got the 0 and ½ but what does 1/1 mean(?): A full measure, and in the case of this wine a unique (read 'one of a kind' wine for my young operation). This wine is pretty close to my ideal for the varietal. I credit the vineyard and diligent farming for the quality and the fact that the vintage challenged me to find creative ways (such as partially dehydrating the fruit in thousands of perforated trays, Amarone-style, to get the sugars higher than 22 brix) for what is in the bottle.

Note that we have changed the appellation on all of our labels from the very generic 'California' to (the only somewhat generic) Santa Barbara County appellation – owing to the fact that since 2009/10 we grow the raw materials in custom-planted vineyards where we hold long-term leases, all of which are located in the county. And because we believe that Santa Barbara county is one of the world's optimal growing regions, capable of consistently achieving greatness.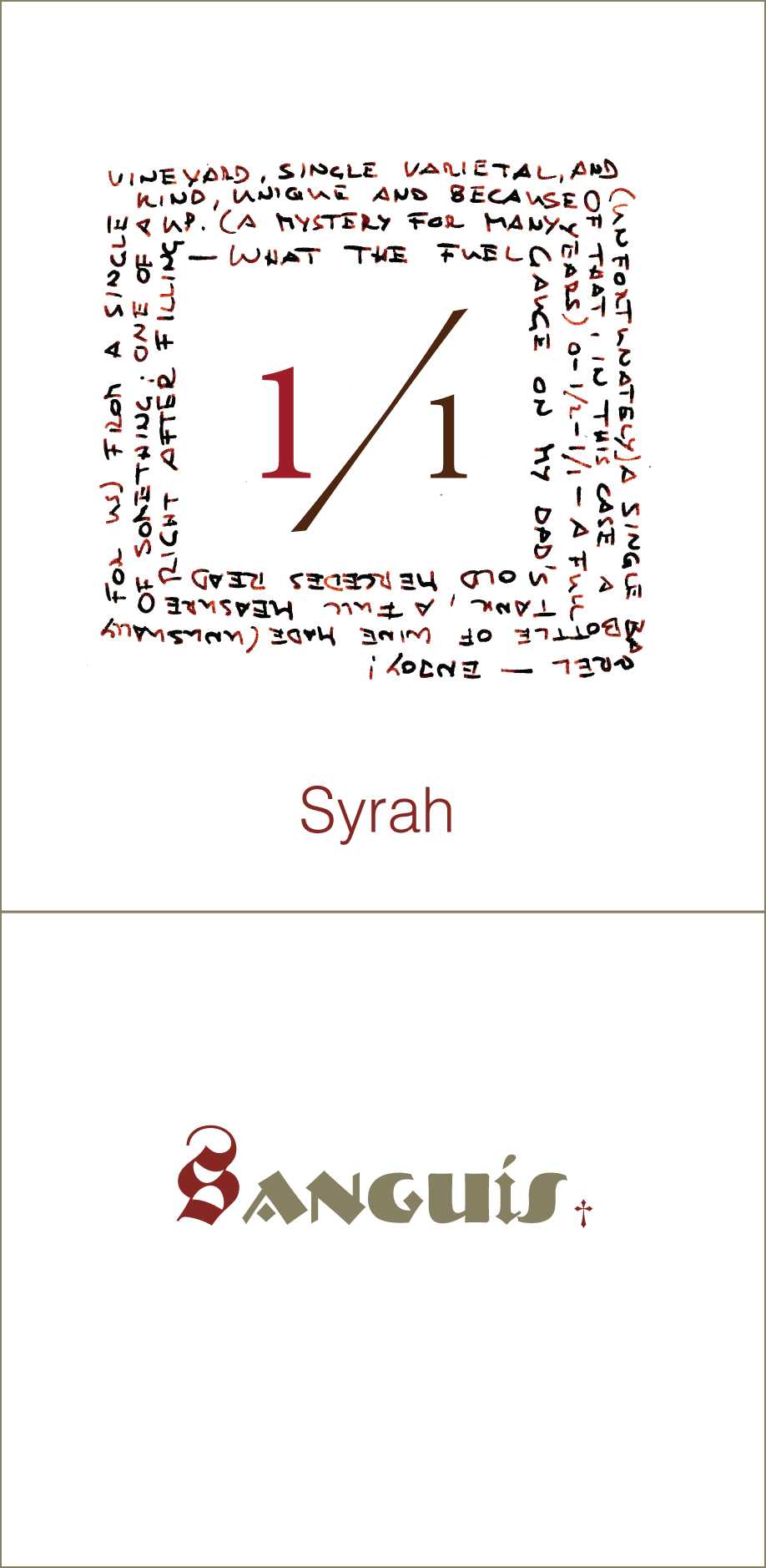 ---